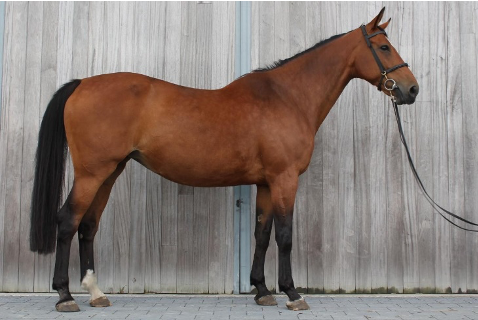 (Kashmir van Schuttershof x For Pleasure)
On father's side we see Kashmir van Schuttershof who was successful in the sport under Philippe Lejeune. He was also the rider of Kashmir's famous father, Nabab de Reve. Today Kashmir is known as one of the best sires with off springs who are active at the highest level.
On mother's side we see the mare line of Qerly Chin who gave birth to Narcotique de Muze II, who herself is the mother of Sauterelle de la Pomme STX. Sauterelle de la Pomme STX is the mother of this Gazelle de la Pomme but also the mother of Vagebond de la Pomme 1m60, Ceasar de la Pomme 1m50, Hermione de la Pomme 1m45,…
Gazelle de la Pomme her oldest descendant Kentucky de la Pomme competes at 1m50 level. Gazelle de la Pomme was also named mother of the moment to the best 5-year-old jumping horse (Paratheos Optimus) in the spring of 2020 according to the Hippomundo rankings.